Dr Faith Mlotsa-Mngomezulu
VICE-CHANCELLOR APPOINTMENT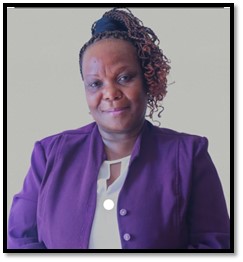 The Church of the Nazarene – Africa Region hereby announces the appointment of Dr Faith Mlotsa-Mngomezulu as Vice-Chancellor for the Southern Africa Nazarene University with immediate Effect. The decision was ratified by the Africa Region and approved by the Cabinet in the government of the Kingdom Eswatini, in the Ministry of Education and Training.
Dr Faith Mlotsa-Mngomezulu is the fourth child born to the late Rev (DS) and Mrs S.S. Mlotsa of the Nazarene Churches in the North District in Eswatini.  She obtained her lower Primary school education at the Nazarene school within the mission and proceeded to Herefords Central Primary and High School.  Faith attended Manzini Nazarene High school.  Rev. and Mrs Mlotsa sold fresh fruit and vegetables for added income, determined to see their children obtaining a quality education especially as they were Pastor's children. Dr. Faith states: "The zeal to shine in academic work therefore was engrained in each one of us as kids."
Faith Mlotsa-Mngomezulu is no stranger to higher education and the University community, having joined the Institution in 2006 as a Lecturer in the (then) Nazarene Teacher Training College. Dr Faith also served as Senior Lecturer.  In 2019, she was appointed Pro-Vice Chancellor-Academics and has been Acting Vice-Chancellor for the University since November 2020. nAs part of her career advancement, Dr Mlotsa-Mngomezulu worked for the Department of Basic Education in South Africa as Learning Materials Developer for the Curriculum Assessment Policy Statements (CAPS) compliant Primary School textbooks. Between 2015 and 2018, she was the Chairperson for the Research Committee at SANU in the Faculty of Education and was a Member of the SANU Curriculum Development Committee between 20l6 and 2018. Dr Mlotsa-Mngomezulu has also published and presented at International Conferences on Curriculum issues.
Dr Mlotsa-Mngomezulu possesses a Doctor of Philosophy degree in Curriculum Development and Instructional Design and Development- Humanities Education from the University of Pretoria. Further, she has a Master of Philosophy in Applied Language Studies from the University of Cape Town, a Postgraduate Certificate in Education from the University of Eswatini and a Bachelor of Arts in Humanities from the University of Eswatini.
Dr Mlotsa-Mngomezulu currently serves as a member of the SiSwati National Language Board. She is also one of the founding members of The African Speakers Bureau for Entrepreneurship in Higher Education. She also attended several courses in Management, Leadership, Strategy and Entrepreneurial Development Studies and Research seminars.  On behalf of the Church of the Nazarene, we wish the new Vice-Chancellor success in her appointment.
Daniel A.K.L. Gomis
Regional Director