Seminário Nazareno in Angola celebrates its fourth graduating class
On November 13, 2022, a graduation of 4 pastors  took place at Seminário Nazareno em Angola in Lubango, Angola an extension of Seminário Nazareno em Moçambique. This is the fourth class to graduate from the Seminary.
These 4 graduating students come from 4 provinces in Angola. We have from left to right:
Huila-Lubango: Ilídio F. L. Kambinda
Cunene – Odjiva: Jose C. A. Tchimbolo
Cambinda: Miguel Tamalia Futi and
Benguela: Zeferino Félix Beltrão da Cruz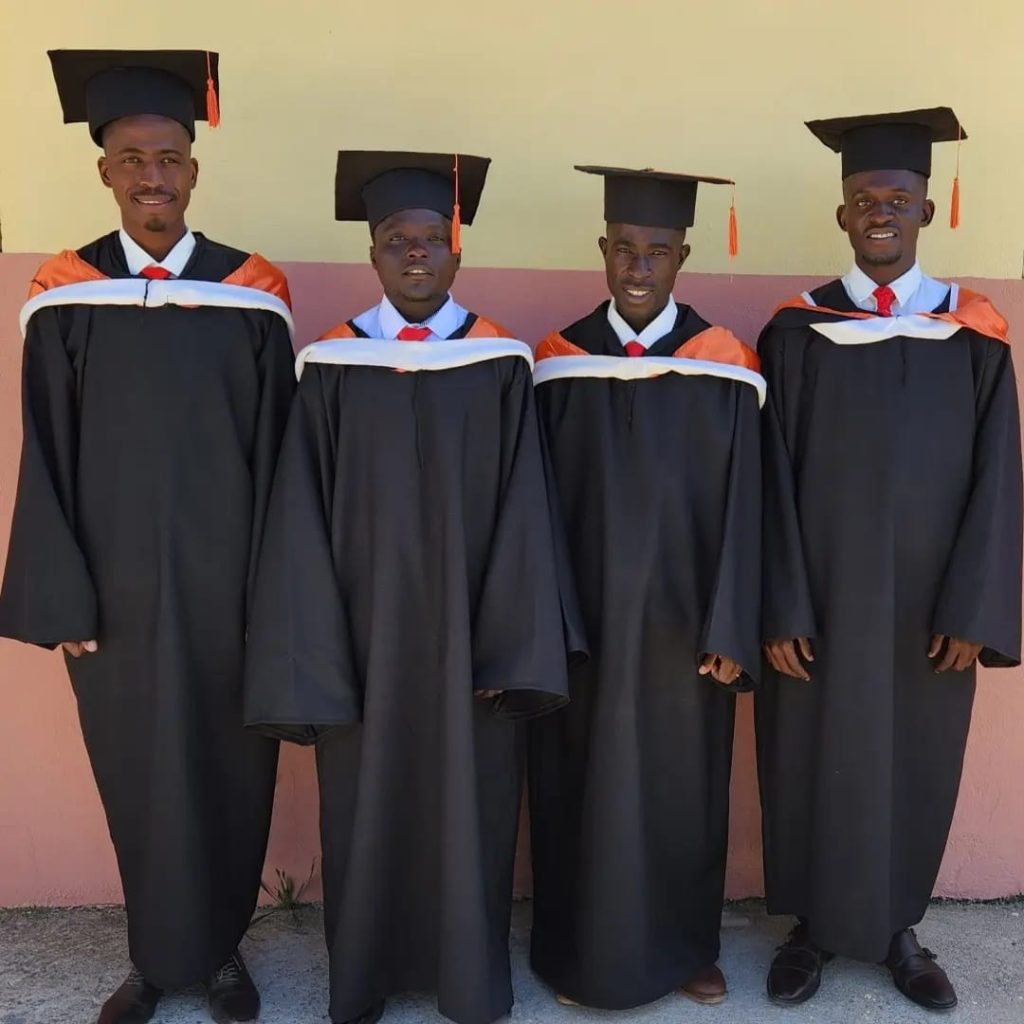 Ilídio F. L. Kambinda, Jose C. A. Tchimbolo, Miguel Tamalia Futi & Zeferino Félix Beltrão da Cruz
These students join the other servants of God in Angola to make Christlike disciples. The leadership of the Seminary praises the Lord for His faithfulness and congratulates all the graduating students.
This class faced several difficulties as they had to pause their in-person classes in 2020 and continue with distance course because of COVID-19.  However, the Lord helped them to finish the course and graduate.
Over the years the Seminary has invested in the preparation of graduates for a life of ministry. We have witnessed selfless students who leave their families and comfort to follow God's call.
Student Miguel Futi left his home and wife who was six months pregnant in Cambinda to go to the province of Huila in Lubango, where the Seminary is located.  He faced the pandemic alone and was forced to stay at the Seminary as all routes home were blocked.  Three years later, after graduating, he was able to return home to meet his daughter in person for the first time. He is an example of overcoming challenges, of how God's call to serve pushes beyond what we can imagine. When asked how he managed to stay away from his family home for 3 years, he replied "God sustained me".  This is just one of many stories of overcoming and victories that have already been witnessed.
Since this is only the fourth graduating class, there is still much work to be done. The Church of the Nazarene has 150 churches in Angola, about 13,000 members, and 170 Pastors. About 70% of the pastors in Angola don't have formal theological training in the Church of the Nazarene.  This is a big challenge.  The Seminary has invested in the IBNAL program, taking training to the districts, so that those who cannot travel to Lubango can attend studies in their own Districts.
Ebenezer. So far, the Lord has helped the Seminary reap victories from those who have responded to God's call and are preparing for the ministry.