NTCCA GRADUATION CEREMONY REPORT
Graduation time is always special. For us, graduations are always a testament to God's faithfulness and providence. On Saturday the 13 of May, we just witnessed the 2023 class sign-off in style as 54 students graduated with diplomas and certificates in theology.
This was NTCCA's 27th graduation ceremony. The event was a grand celebration of the achievements of our graduating students, and we are pleased to share the details of the time, attendance, composition, speeches, and the overall atmosphere at the event.
Board of Trustees
As with all graduation classes, the 2023 event was preceded by the meeting of the Board of Trustees (BoT).  The meeting looks at reports from the principal, academic dean, field coordinator and the finance department. The Chair, Rev. Nkunika as well as the entire board deliberated for two days prior to the graduation on strategy programming and design for the institution's advancement in the next three years.
This year the REC, Dr. Benjiman, also undertook board development/training – focusing on institutional/organizational development with the view to collaborative initiatives between sister institutions in the Southern Regional Hub.  Dr. Benjiman raised the importance of robust, flexible educational, methodologies for volatile, uncertain and complex times.  Field Strategy Coordinator, Rev. Paul Mtambo recommended that this training be made available to the Field for clergy development as well. The REC also brought the Region's IT Specialist, Nigel Beta, to assess the needs for infrastructure in the area of internet connectivity.  This will enable the library, administration and computer laboratory with more efficient internet connectivity.
Time
The graduation ceremony commenced promptly at 9:30 am and concluded at 12:45 pm. The scheduled duration of the event was approximately 3 hours, allowing for an efficient program while ensuring a memorable experience for all attendees. "How Great Thou Art" was the congregation song. The congregation sang in reverence to Him who makes all things possible. Indeed, no one but God, who makes all things happen at the right time, made this event possible.
Attendance:
The graduation ceremony witnessed an impressive turnout, with a total of 54 graduates, their families, faculty members, distinguished guests, and college staff members present. The venue was filled with an air of excitement and anticipation as the graduates prepared to embark on the next phase of their lives. The long walk was finally over.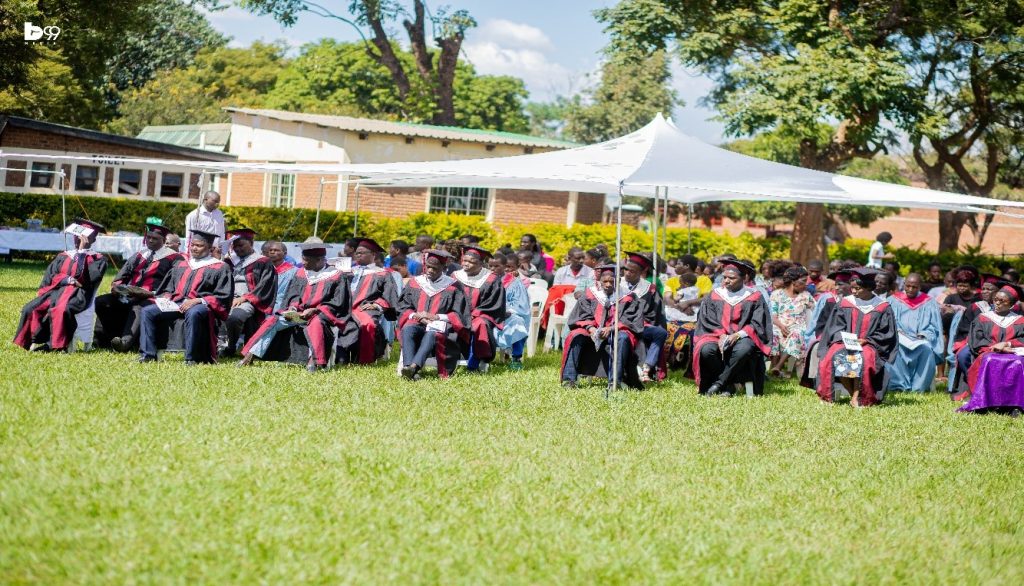 Composition
A total number of 54 ministerial students graduated. Out of these, 8 of them were from Mozambique. 12 were from Zimbabwe, 7 from Zambia and 27 students from Malawi. NTCCA graduated 39 with diplomas in Theology and 15 students were graduated with certificates in Ministry. With such numbers joining those in the field, we are elated and thankful to God that the mission of the Church in Africa is being fulfilled gradually to minimise the clergy gap.
One of the best highlights of this year's class was the resilience and determination to succeed by the group from Mozambique. "They came without any knowledge of English. Yet, against all odds, they worked and proved that nothing is impossible for those who believe. Their story serves as a powerful reminder that graduation success is not solely determined by initial perceptions or circumstances. Through their unwavering commitment, resilience, and resourcefulness, these students defied expectations and triumphed over significant obstacles. Their journeys inspire us to believe in the transformative power of education and the capacity for personal growth and achievement, regardless of the challenges one may face." Said the academic dean, Rev. Benson Phiri.
Speeches
The event featured several notable speeches delivered by esteemed individuals.
STUDENT REPRESENTATIVE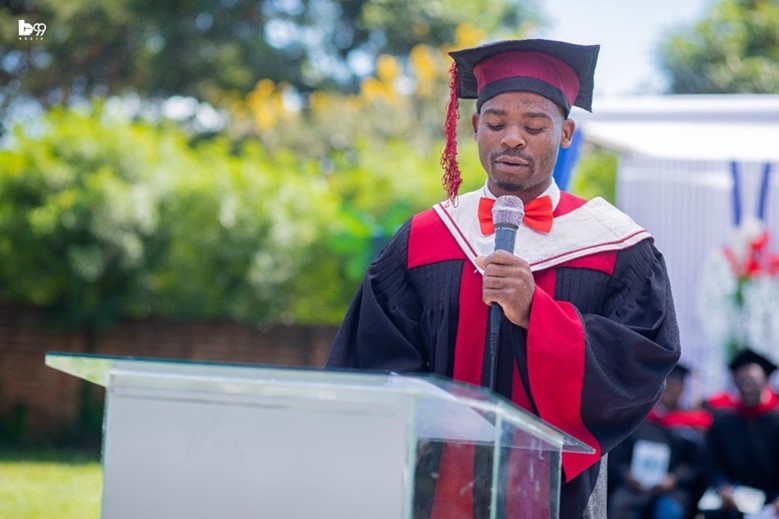 The student representative from the graduating class delivered a heartfelt speech, reflecting on their college journey and expressing gratitude to the faculty, staff, and family members who supported them along the way. This speech resonated deeply with both the graduates and the audience, evoking a sense of pride and accomplishment. One notable aspect of the speech was an acknowledgement of God's help and presence to each one of them during their course of study.
THE PRINCIPAL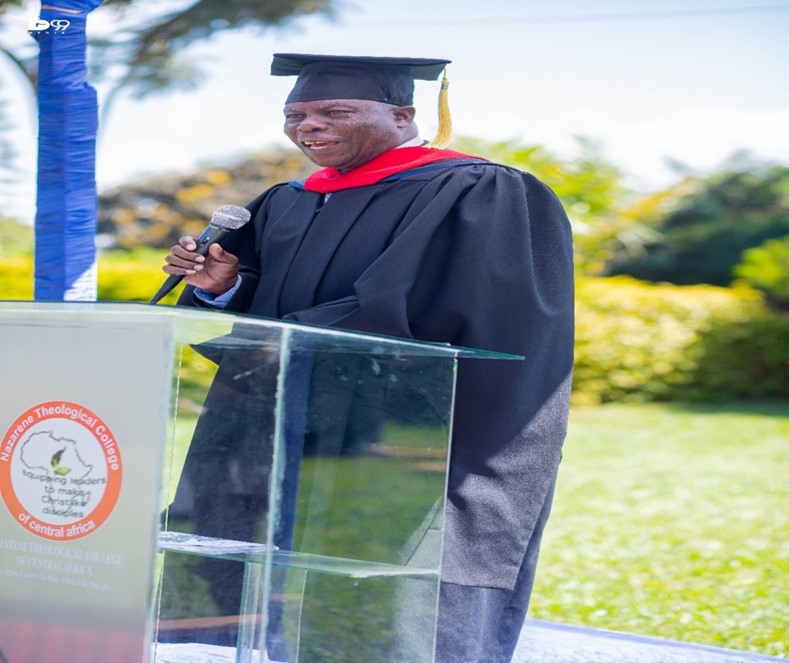 The college principal, Rev Chinyama Lilema, opened the ceremony with an inspiring welcome address, acknowledging the hard work and dedication of both the graduating class and the faculty.  Rev Lilema shared insightful thoughts on the transformative power of education and the responsibility graduates now bear as they step into the world.
He shared a story that was lifted from Hassan Sas Bangura's Blog. "Find Time, Sharpen Your Axe". He narrated…once upon a time, a very strong woodcutter asked for a job in a timber merchant and he got it. The pay was really good and so was the work condition. For those reasons, the woodcutter was determined to do his best.
His boss gave him an axe and showed him the area where he was supposed to work.
On the first day, the woodcutter brought 18 trees. "Congratulations," the boss said. "Go on that way!"
Very motivated by the boss's words, the woodcutter tried harder the next day, but he could only bring 15 trees. On the third day, he tried even harder, but he could only bring 10 trees. Day after day he was bringing less and less trees.
"I must be losing my strength", the woodcutter thought. He went to the boss and apologized, saying that he could not understand what was going on.
"When was the last time you sharpened your axe?" the boss asked.
"Sharpen? I had no time to sharpen my axe. I have been very busy trying to cut trees…"
He then reflected on the story and told graduates how our lives are like that. We sometimes get so busy that we don't take the time to sharpen the "axe". In today's world, it seems that everyone is busier than ever, but less happy than ever.
There's nothing wrong with activity and hard work. But we should not get so busy that we neglect the truly important things in life, like our personal life, taking time to fulfil our hobbies, giving more time for our family, taking time to read, enhancing our skills, upgrading our knowledge, being aware of our strengths and weaknesses, spending time for our self-development and health etc. He finished by saying that we all need time to relax, think and meditate, to learn and grow. If we don't take the time to sharpen the "axe", we will become dull and lose our effectiveness.
THE REGIONAL EDUCATION AND CLERGY DEVELOPMENT COORDINATOR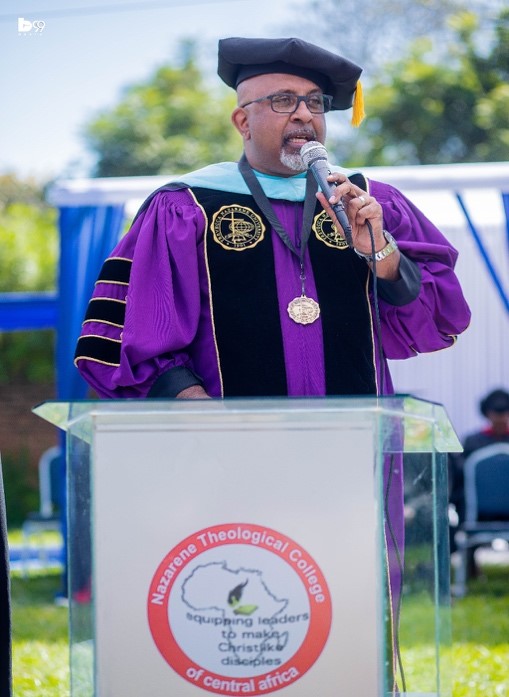 A keynote address was given by the Regional Education and Clergy Development Coordinator, Dr Gabriel Benjiman, a renowned figure in the field of education and theology. The keynote speech focused on current trends and challenges in the graduates' calling, encouraging them to be authentic, original thinkers and contributors.  He implored students never to be title-chasers but value-adders "Titles freely given and received are baseless trophies in a world with really smart, and enlightened people. Anything worth having must be hard-earned.  Work smart, push through challenging programs, and earn your right to speak truth to power with wisdom, depth and breadth" He said.
In his speech, he observed that seldom does anyone admire the foundation of a house. People look at the design, the walls, windows, paint colours, and lights. Yet, none of these things would have any lasting value without a solid foundation.
It's the root things that make the fruit look good.  It's the stuff we invest in when no one is looking.  It's about digging deep and building on the solid rock. Investing many hours in prayer and study shows up behind the pulpit. Hours in closet prayer produce power for the need. All nights on mountainsides praying produced power at the moment as Jesus demonstrated.
He then shared the three given foundational strengths that prevail in our field and calling. "And these you have heard from me. These are ancient pillars upon which God's people are established. Africa needs our best efforts and gifts. We must bring our honest, incorruptible and Christlike spirit to whatever tasks we have." He said.
Using the three foundations – Logos, Ethos and Pathos, he assured students and all in attendance that God takes delight in our response to logos (the Word), our demonstration of ethos (what you are), and our undying pathos (your passion). "As you preach the Word may you experience his smile—the Holy Spirit in your sails!" He said.
"Today you have achieved and succeeded.  But there will also be a failure. Learning comes from failure. May we not be afraid to try and to fail while trying. Failure screams out to the world… I was bold enough to try something new. For now, though, it is time to celebrate!! It is time for Jubilee! Live out your LOGOS, ETHOS and PATHOS like never before. Congratulations! Class of 2023. You've been born and bred in the fire…  You were made for such a time as this." He concluded.
Atmosphere
The atmosphere at the graduation ceremony was electric and celebratory. The venue was adorned with college banners, flowers, and decorations, creating a festive ambience. The joy and enthusiasm of the graduates and their loved ones were palpable as they gathered to mark this significant milestone in their lives. Applause, cheers, and occasional tears of happiness filled the air, making it a truly memorable and emotional occasion for all in attendance.
Conclusion
In conclusion, the 2023 college graduation ceremony was another resounding success, marked by its punctuality, impressive attendance, inspiring speeches, and jubilant atmosphere. We extend our sincere congratulations to the graduating class of 2023 and express our gratitude to the Board of Trustees and the Regional Education and Clergy Development Coordinator for their unwavering support in making this event possible.
PRAY for NTCCA-
IT infrastructure
Library Development
Completion of the Multiplex-Hall
Lilongwe Nazarene Private School
Faculty, Staff and new student intake for the new year.