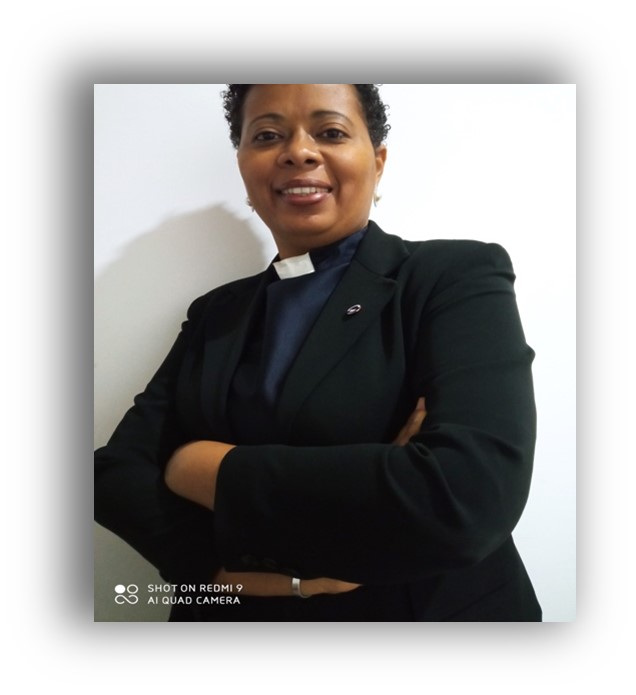 The Church of the Nazarene, Africa Region through the office of the Regional Director, Dr. Daniel Gomis, is pleased to announce Rev. Leniza Monteiro-Soares as the Africa Women Clergy Leader.
The Regional Education Coordinator, Dr Gabriel Benjiman announced that after months of conversations which began during Covid-19, Rev. Leniza will help lead our Women Clergy Development on the continent. Born in Cape Verde Islands, Rev. Leniza Monteiro-Soares is Married to Ailton Samuel Soares and they have two children, an 11 year old girl, and boy of 8.
Rev. Leniza comes from a pastors' family and grew up participating in ministry, with her parents, brother and sister.  At the age of nine years, Leniza accepted Christ as her Lord and Saviour and also received her call to ministry. Her family served as missionaries in Mozambique, South Africa and Sao Tome é Principe.
Having studied as a school teacher as well as a practicing psychologist, Rev. Leniza is well versed in serving people and helping them move toward Christlikeness. She studied toward her degree in Psychology between 1998-2005.  In 2006 Leniza began seminary training toward ordination in the Nazarene Seminary of Cape Verde (SNCV).  Her professional service both as a psychologist and a clergy person has seen her pastor various churches and also work with special needs children over the years.
Ordained in the Church as an Elder, in 2013, Rev. Leniza Monteiro-Soares later became the first woman to be elected as a District Superintendent in Cape Verde. She stated: "It is a great challenge to be DS of a new District, and to work as a special needs psychologist. I like to teach about God, work with families, and do counselling to whoever needs it. I love to work with youth also. Pastoring is a challenge and a great pleasure. A few years ago, prior to being elected DS, I had the opportunity to create a ministry called "House of Soup".  It is a ministry that takes care to meet the hunger of the many marginalised and homeless people.  In 2022,  she completed her Master of Arts degree at NNU, specialising in ministry with children, youth, and family.
"We welcome Rev. Leniza Monteiro-Soares as part of the ministry of Clergy Development in Africa. We are confident that Rev. Leniza Monteiro-Soares will add great value to many as she leads the development of women called to be Christian leaders with a deep sense of logos (commitment to the word of God), pathos (passion for the cause to make Christlike disciples) and ethos (a sound spiritual, ethical and moral compass)" stated Dr. Benjiman.